Georgiev has a narrow escape
Paul Oudshoorn, 22-05-2011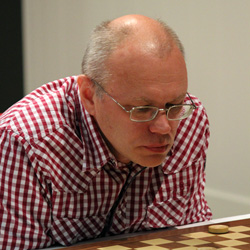 In the 14th round it was Baljakin's turn to take a penalty against Artykow. When a player loses more and more it get more difficult for his opponents to win from him. Obviously, a player who loses a lot in a tournament is not in great shape but Artykow (for example) can play draughts much better than the score suggests.
Once the series of defeats should be broken, but against whom? Of course Baljakin had to win this game is he wanted to keep on threatening Georgiev. At first everything seemed to be going good for Baljakin, thanks to strong navigating he obtained a strong side attack.
Alexander Baljakin
The general expectation was that the resistance of the Uzbek would collapse, but then the catastrophe hit, Artykow began to show fight. Suddenly it was very doubtful whether Baljakin's advantage would be enough to win the game. Baljakin had to settle down to an endgame with one more piece but Artykow had surprisingly much defence against the threatening combinations Baljakin braided in the game. Artykow sacrificed a piece to remove the threat and created a combinational threat that Baljakin could not barr. With that a totally equal position arose. A heavily disappointed Baljakin need a lot of time to process the draw.

The other two KNDB players also played a draw. Pim Meurs tried hard to fight against yet another draw. Opponent Schwarzman also played for the victory through which a nice and exciting fight arose. That both players were in such a balance is was not bad, the neutral audience was winner seeing such a quality game. Less interesting was the battle between Boomstra and Mogiljanski. Mogiljanski solidly played for a draw. Boomstra managed to play an (important?) plus point out of the struggle here.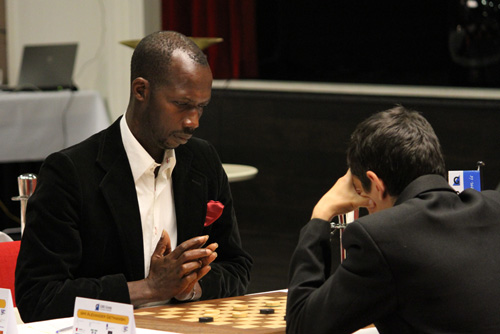 That the game between Seck and Getmanski ended in a draw was quite surprising. Seck was under heavy pressure against the Russian. At some point Seck ended up in a forced play. Getmanski could finish the forcing with a relatively simple combination. To everyone's surprise he missed the winning combination, despite the fact that he pondered over his 51st move. The poor Getmanski has wasted four victories this tournament, if he does not rid himself of his fear for penalties it will be very hard to end high in a world championship.
Mor Seck - Alexander Getmanski
The big winner of the day Guntis Valneris. As the tournament progresses Valneris starts to play stronger and stronger. Dul was saddled with a weak side piece on 35.
In a very creative manner Valneris was able to use this piece in a combination. The Mongolian suddenly could not parry the threats and had to sacrifice a piece. He had enough compensation for the sacrificed piece but he immediately made a wrong move again.
Valneris impeccably won the game.
Valneris (rechts) tegen Dul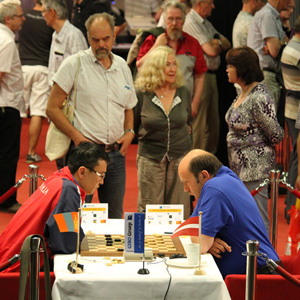 The most sensational game of the day was between Ndjofang and Georgiev. Ndjofang had become somewhat nervous by the prospect of a high ranking. He did not play the opening well and it seemed Georgiev had the screws tightened. Suddenly Ndjofang came to his senses. Under pressure he made a few surprising and strong moves to neutralize the danger. Georgiev could have chosen a safe and sound way of playing what would lead to an equal draw. No one would blame him if he took his profits and ceased the attempts. Instead, Georgiev started playing a dangerous game to win. He sacrificed a piece through which he would be able to go king with a second piece. Similar to the kind of breakthroughs that Silva (successfully) applied against Gantwarg and Mogiljanski. It seemed to work out but on the 40th move he made a mistake. Ndjofang took a breakthrough combination and Georgiev ended up in a macro endgame with a piece less. And this was very dangerous for him. Due to time pressure Ndjofang had not been able to keep up his notations again. Due to this they played quickly till the 50th move. The endgame was not suitable for quick play and after the quick play everything was ruined. A plus draw was a meager reward for the Cameroonian. If Ndjofang had had the coolness to trust that he would make the time control he likely would have won the game. He would have been one point behind Georgiev and that would have kept the hope alive for an African world champion after Baba Sy. That would have been a sensational twist in the tournament. Unfortunately this now is not true. The poor African probably had a bad night's sleep by missing this opportunity.
Ndjofang (right) - Georgiev