A cunning victory for Dul
Paul Oudshoorn, 21 mei 2011.
Although there were some perfunctory draws in the thirteenth round of the world championship draughts, there were also decisions again.  It was nice for Seck that he won his first game today. This was absolutely not in an impeccable way and far from fluent, but his opponent Artykow helped him fully with it. One can question himself if the Uzbek will be able to recover from the now numerous suffered defeats in the tournament.
Tsjizjow did not give his opponent Meurs a hint of pleasure in their mutual game. The Dutchman quickly looked at a position without perspectives of color or flavour. In the bone-dry game that he dished out, the tenfold former world champion was able to navigate in a way that he could squeeze out a small profit and Meurs was left with a thin unfavourable position. It looked very threatening, but the Dutchman came away with an unfavourable draw. With this Meurs signed for his thirteenth division of points.
Artykow - Seck
Getmanski - Ndjofang was a game that offered considerably more juice. It was a strange side game with amusing complications, the temperature, however, never reach the boiling point. Everything stayed within a safe margin and again it was a draw.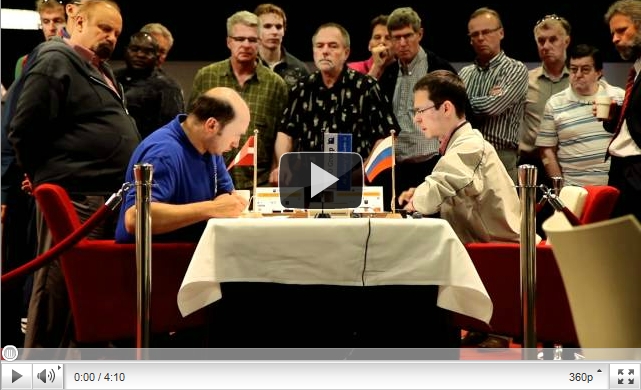 The game of the day was unmistakably that of leading Georgiev against Valneris. After the original opening game a baroque play type arose that evoked memories of the times of Molimard and Isodore Weiss, though there are only few among us who know these French champions other than from the books. Valneris played brilliantly and was able to surprise Georgiev, with refinement. In a cheeky way he was able to take over the centre board and seemed to take in an overwhelming position. It was not easy, because Georgiev parried the deadliest positional threats masterly and continued to play for the victory. There was an off play which was very deep and had to be accurately counted, and the pressure in the brilliant minds piled up, while the clock was ticking. Eventually even this game ended in a draw, but analyses shall have to determine whether Valneris perhaps missed a great opportunity.

Erdenebileg Dul won his fourth game, displaying a remarkable productivity. With white he surrounded the obstinate attacking Boezjinski and did this very deserving. In a cunning manner he exposed a weakness in the unusual attack of his opponent and elegantly went king with two pieces. The off play proved to be won. Dul remains in view for a podium place if he keeps on playing like this tomorrow and in the last week.